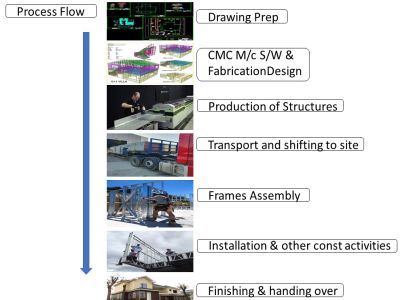 We are pleased to introduce ourselves as an experienced and well known company. Our unwavering commitment to render quality services has helped us scale new heights of success. Our services include Construction of Pre-engineered buildings, recyclable Cold formed steel buildings, Fenestrations, Building interiors and several other add on works. We have on board a team of dedicated, well-trained, versatile professional to carry out these projects viz; Fabrication, Assembly and Erection & Construction. We are an established name in the business since the last several years in north and since 2014 we have established our office in Bangalore.
Clients can obtain from us customized services as per their specific requirement. We render the services at market-leading prices. The construction of buildings can meet any standard of the world. We provide end-to-end solution for building construction.
The entire project cycle considered for project completion is :
Entire CAD and fabrication drawings, production of cold formed structures, their transportation to site to assembly of requisite frames, installation and finishing work to complete the building to the satisfaction of end users.
Cold formed steel buildings were preferred in the west so far but now they are equally popular in our country because of their umpteen advantages.
This type of construction takes very less time, cost over the benefits is enormous, and building block construction has added advantage towards expansion of the building with very little effort. These structures are rust resistant and can be reused at different location adding a great amount of benefit for usage. These building are very light hence they can be taken and constructed to far end location where conventional building materials are difficult to be carried. These buildings several other advantages like; have very low to almost nil wastage, low maintenance, greater durability, etc. Read more...